John & Julie attend historic "topping out" ceremony
Joint Managing Directors John and Julie Finley attended an historic event to "top out" Hitachi Rail Europe's train-building factory in County Durham.
The Japanese giants hosted the event at its Aycliffe Business Park facility in October to mark the completion of the building envelope.
The ceremony was hosted by Hitachi Managing Director Keith Jordan, Merchant Place Developments CEO Michael Chicken and Shepherd CEO Mark Perkins.
Finley Structures were handed a contract by Shepherd Construction to erect 2,000 tonnes of steel for the factory, which is expected to bring 750 direct jobs and thousands more in the supply chain.
Julie said: "It's a fantastic building and we've very proud, as a local family firm, to say we played our part in the construction of it.
"It will be a factory which will become an emblem for County Durham and the Southern region of the North-East, very much like Nissan is for Wearside, and the long-term benefits in terms of employment and creating wealth in this area will last for decades."
MP Phil Wilson, who also attended the event, said: "This is an £82m investment. They're going to build trains for the East coast mainline and they've recently won a contract to build commuter trains for Scotland, and the long-term objective is to start exporting trains to the rest of Europe.
"95% of jobs here are going to be recruited from within a 50-mile radius of Newton Aycliffe, so the potential for local people is fantastic, especially with the University Technical College that's going to be built, to ensure local young people can get Apprenticeships here – the next generation of technicians and engineers."
Meanwhile, Geoff Hunton, director of Merchant Park Developments, says the arrival of Hitachi in Aycliffe is just the beginning for Aycliffe Business Park.
He says he wants to bring 4,500 new jobs to the area as part of the Merchant 2 development, which has already been backed by Government cash, followed by a third development.
And he wants to achieve it all within the next five years.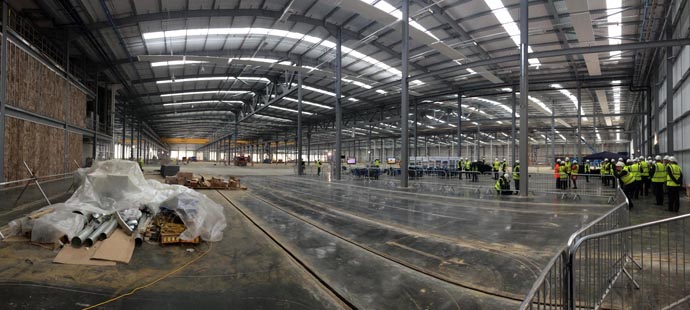 This entry was posted onThursday, October 30th, 2014 at 12:51 pm and is filed under Latest News. You can follow any responses to this entry through the RSS 2.0 feed. You can leave a response, or trackback from your own site. Both comments and pings are currently closed.