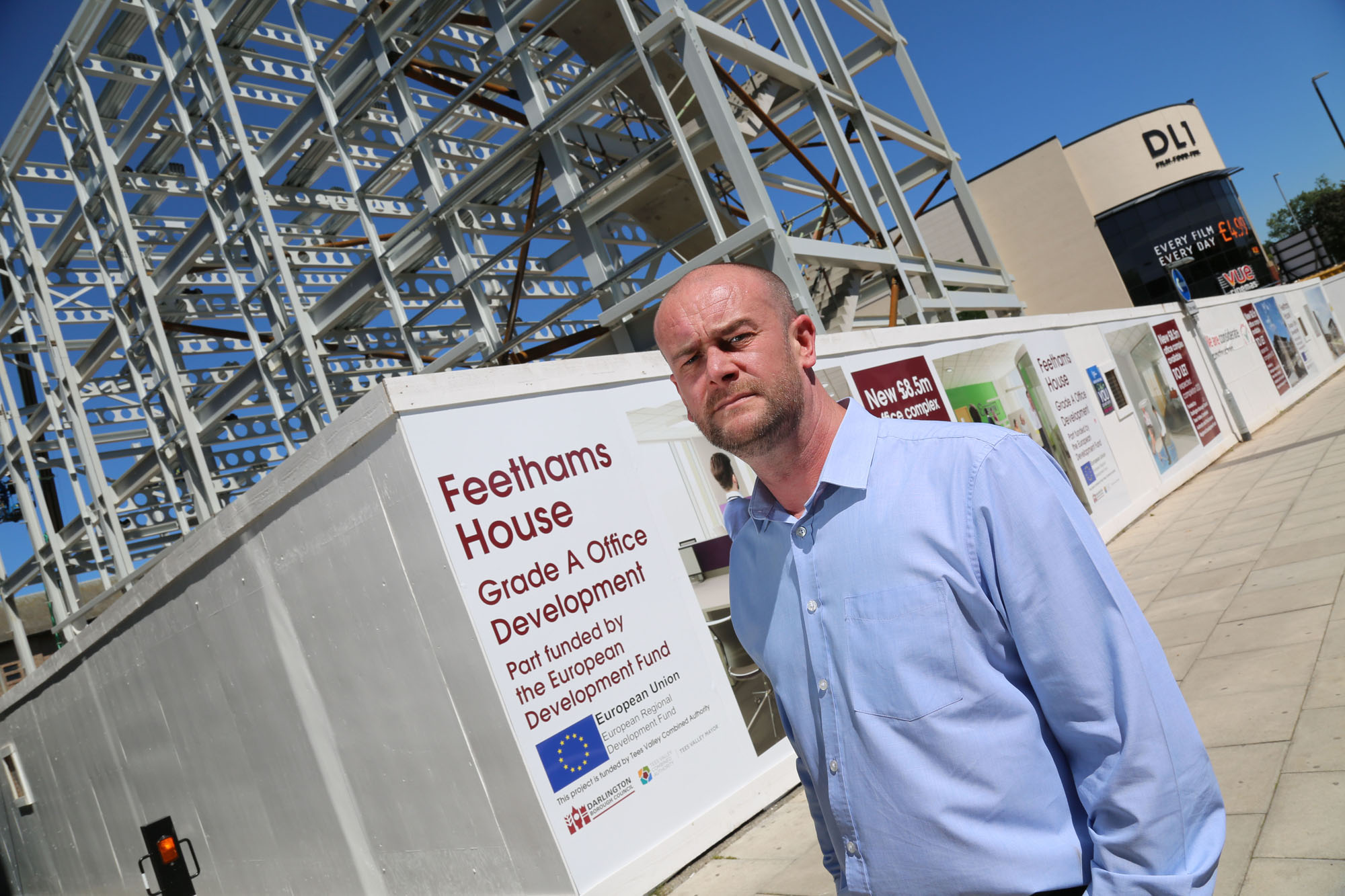 Office block adds metal to Feethams development
Darlington town centre's skyline is changing once again as the steel for a new office takes shape.
Newton Aycliffe construction specialists Finley Structures won a contract to fabricate and erect 330 tonnes of steel for Feethams House in the town.
The five-storey office block development in the centre of Darlington will complement the area's ongoing rejuvenation which has included a state-of-the-art leisure complex.
The Feethams development, which opened in early 2016, is a £30m state-of-the-art complex featuring nine-screen multiplex Vue cinema, an 80-bed Premier Inn and a range of bars and restaurants.
And the £8.5m, 30,000 sq ft Feethams House – prominently located on Darlington's inner ring road (A167) – is adjacent to the 650-space multi-storey car park which could bring 250 new jobs to the town.
The office development follows Finley Structures' high-profile work on the Centre Square office development in Middlesbrough.
Finley's estimating manager Andrew Workman said: "The project will see us supply and erect over 330 tonnes of steel along with placing the metal decking packs, installation of a pre-cast concrete lift shaft and 18 pre-cast concrete stair units.
"It's a project which see us once again working close to home with main contractor Willmott Dixon, following the successful completion of the Student Life building at Teesside University.
"So we're delighted to be working on another high-profile project which is going to bring jobs and prosperity to our region."
The Darlington Borough Council project has been supported by the Tees Valley Combined Authority, which has invested £3.2m into the project, and has also been part-funded by the European Development Fund.
Tees Valley mayor Ben Houchen said: "When it comes to professional services, my top priority is to make the Tees Valley the number one destination for firms who would have previously been looking to base themselves in Leeds or Newcastle.
"In funding the development, we're delivering the highest quality office space that's just a stone's throw away from the East Coast Main Line, building on Darlington's excellent transport links. It will signal to firms across the UK that the Tees Valley is open for business."
The proposals came after Darlington Council oversaw the construction of nearby offices to retain hundreds of Department for Education staff in the town.
Authority chiefs see the new block as a key asset in strengthening the town's existing commercial environment, highlighting its potential as a lever in attracting new operators from across the professional services, digital and creative sectors.
They say it will also mark another significant investment in Darlington's Feethams area, which has seen a new cinema and restaurant complex complemented by a riverside walkway and multi-storey car park.
The scheme is being marketed by property consultancy Connect Property North- East, together with Cushman and Wakefield.
« Back to News
State-of-the-art facilities
Our 90,000 sq ft production facility is packed with state-of-the-art machinery. We provide a wide range of structural solutions to the construction industry and offer a range of in-house services – including estimating, design and detailing, steel fabrication, painting and installation – enabling a cost-effective and efficient all-round service to main contractors.