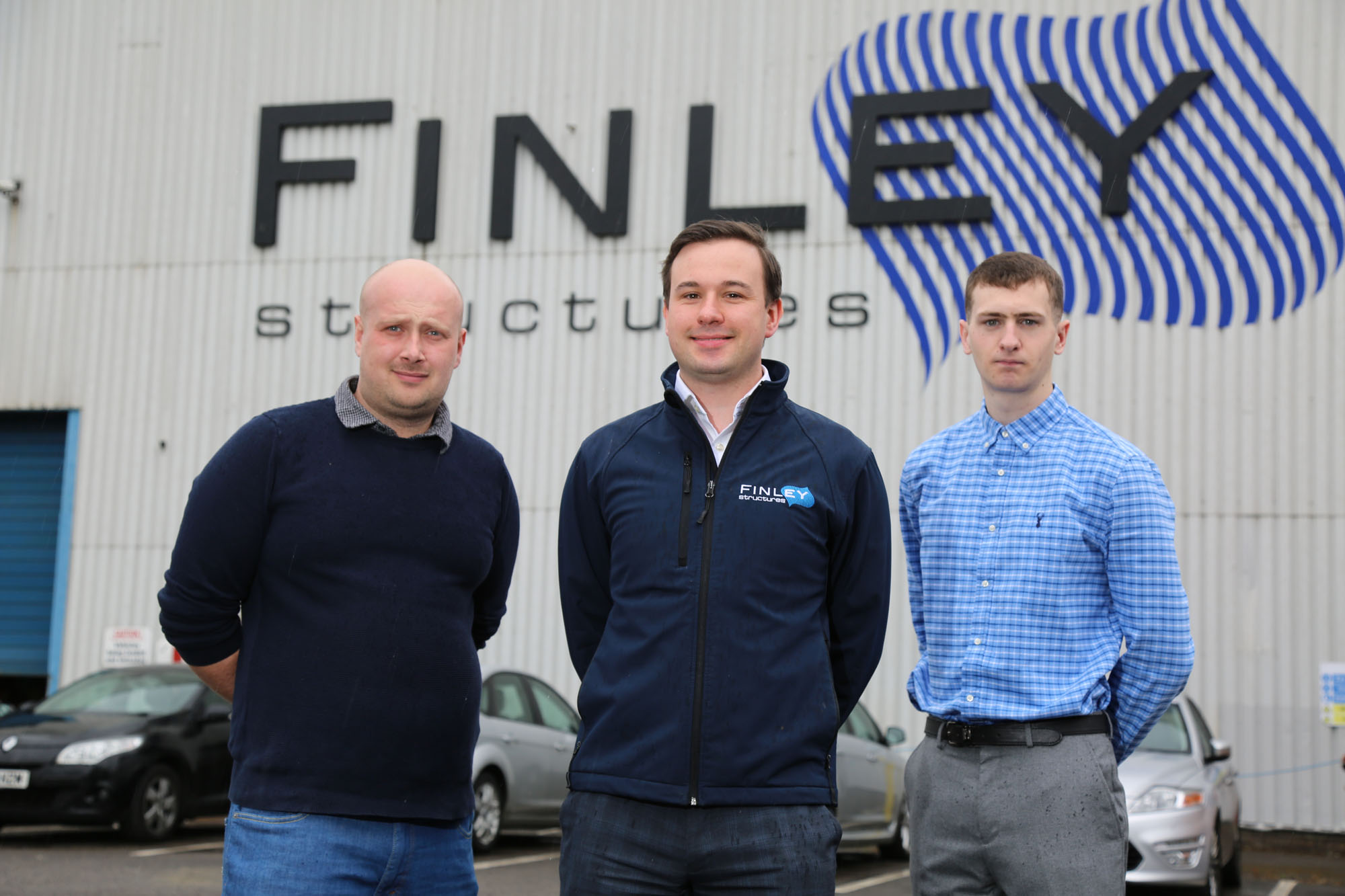 Production manager Phil sets positive progression trend at Finley Structures
Production manager Phil Metcalfe is setting a positive career progression trend at family firm Finley Structures.
The 35-year-old was just 20 when he started working for Finley's in 2004, starting out making fittings, before working his way to the office and now heads a 40-man production team.
As well as climbing the career ladder with the firm, Phil has also passed his driving test, bought his first house, started with a young family with his wife and relocated to Newton Aycliffe from Darlington during his 15 years with the firm.
"My time with Finley Structures has seen me grow on every level," says Phil.
After leaving school in 2000, Phil studied an engineering course at Darlington College and then worked for a couple of small structural fabricators in Darlington.
An opportunity came up at Finley Structures, programming fittings in the office for the machines, while he also worked in estimating.
"When I joined the company we had six management staff, now as the company has grown we have 17," added Phil.
Finley Structures' policy of trying to progress their young staff is clearly paying dividends, as two other employees are following in Phil's footsteps.
Production controller Alex Sutherby started as an apprentice welder with Finley's 12 years ago but has been in the office for five years now.
And ambitious young production assistant Liam Gamsby has recently been appointed production control assistant – he's now working under the guidance of Phil and Alex.
"I'd like to make the same progress Phil has over the years," says 19-year-old Liam, from Bishop.
"Finley Structures have shown they're prepared to develop their staff, so there are genuine good career opportunities if you want them, regardless of how you enter the industry."
Phil added: "I started out making fittings on the shop floor and then I started programming in the office, which is what Liam is already doing now.
"I was also a trainee estimator at the time, so I've worked my way through the office doing different jobs, which has given me useful experience of various sides of the business."
Finley's joint-managing director Julie Finley says it's important the company future-proofs the business by promoting from within as well as recruiting other staff externally.
She added: "Young people who've worked on the shop floor have a good, thorough understanding of production and how it works, which we think gives them valuable tools for the future if they're looking to progress their careers in the office.
"We're delighted with the progress Liam has made and, under the expert stewardship of Phil ands Alex, he'll be given all the help and guidance he needs to progress his own skills and experience."
Finley Structures, formed by John Finley in 2000, is known for working on a string of high-profile contracts in the North-East region as well as across the UK.
The family-run firm completed the steel for Teesside University's eye-catching Curve building and new student village, the grandstand at Middlesbrough Sports Village and the two Centre Square buildings in Middlesbrough town centre.
It also built the steel frame for Hitachi's train assembling factory in Newton Aycliffe and Nissan's Leaf manufacturing facility in Washington, and recently completed its 90th education project in 10 years after completing steelwork for the new Bradford College.
Finley have also worked on the Victoria Gate shopping centre in Leeds, The Gates development in Durham city and the Advanced Manufacturing and Research Centre (AMRC) in Sheffield.
• Finley Structures production manager Phil Metcalfe is pictured above (centre) with and production controller Alex Sutherby (left) with production control assistant Liam Gamsby – all three have worked their way from the shop floor to the office.
« Back to News
State-of-the-art facilities
Our 90,000 sq ft production facility is packed with state-of-the-art machinery. We provide a wide range of structural solutions to the construction industry and offer a range of in-house services – including estimating, design and detailing, steel fabrication, painting and installation – enabling a cost-effective and efficient all-round service to main contractors.