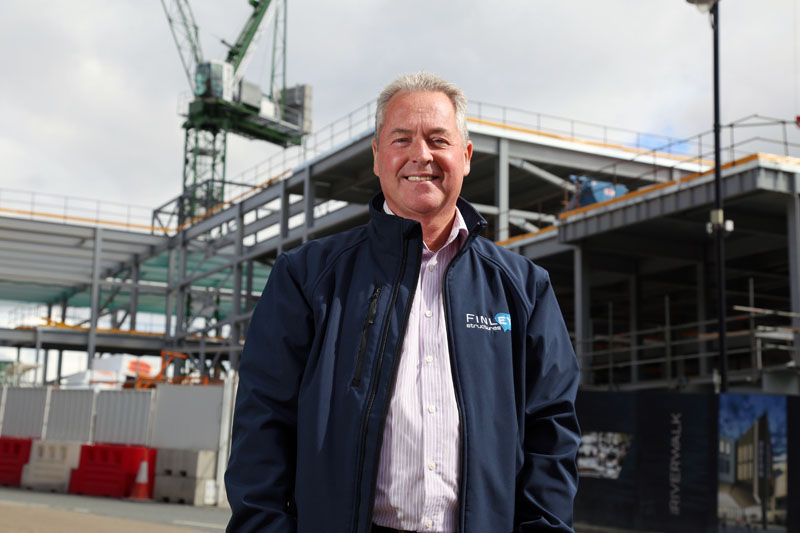 We secure 1,100-tonne contract at £30m Riverwalk development
Finley Structures has won a 1,100-tonne project which will help to rejuvenate Durham city.
The family-run business was awarded a contract from Sir Robert McAlpine to work on a retail and entertainment complex as part of the multi-million pound Durham Gates redevelopment.
And the contract win has come as a personal victory for Finley's Managing Director John Finley, as it's the first project he has won in his home city after nearly 40 years in the construction industry.
Finley, who's originally from Esh Winning, just outside Durham city, says he's personally delighted to have won it.
He said: "Even going back to my original steel erecting days in the late 1970s I'd never worked on a project in the city.
"And since starting out in business in 1981 that pattern has continued, despite many student accommodation projects being carried out around the city in recent years.
"So to have finally won a contract in Durham city is very much a personal victory for me and the company and we're naturally delighted."
Finley Structures started on-site at Durham earlier this year and expect to be finished this summer. Their part of the project is to fabricate and erect 1,100 tonnes of steel on top of an existing concrete structure.
The steel project is supporting at least 30 local jobs, including a local drawing office and labourers,
John added: "It's a transfer structure, with a new steel frame that sits on top of that, so it's quite a challenge.
"Building up into fresh air is straight forward, but fixing down into existing concrete structures is always much more complex.
"But it's a good local project we're all excited to be involved with, and we're working with main contractor Sir Robert McAlpine, with whom we have a long-standing partnership."
With a 445-bed student accommodation unit, a six-screen Odeon cinema and half a dozen bars and restaurants, the riverside area will be transformed by 2018.
It's part of three major contracts across the city which represent a total £195m of investment.
The developments will bring a huge range of choice for County Durham foodies, with restaurants including Marco Pierre White Steakhouse Bar and Grill, Handmade Burger Co and Caribbean restaurant Turtle Bay all set to open there eventually.
The two-storey glass fronted building will take in views across the river wear of the castle and the Cathedral.
Riverwalk is set to open in two stages in 2018 and be completed by that summer.
« Back to News
State-of-the-art facilities
Our 90,000 sq ft production facility is packed with state-of-the-art machinery. We provide a wide range of structural solutions to the construction industry and offer a range of in-house services – including estimating, design and detailing, steel fabrication, painting and installation – enabling a cost-effective and efficient all-round service to main contractors.